Focus on NatureTM: Insight into the Lives of Animals
is a beautifully-illustrated column giving insight into the lives of endangered animals living nearby or halfway around the world. Presented from each animal's perspective, readers learn:

* what the animal looks like
* how his appearance helps him
* what his house is made of
* where he lives and what the surroundings are like
* what he likes to eat
* how his family is raised
* what predators and other factors challenge his survival

Connect to the natural world!
Each Focus on NatureTM column can be delivered to the publisher's inbox as frequently as every week starting at $49 for each easy-to-read 135-word format. Longer versions of 350-500 words are also available starting at only $79 each. Contact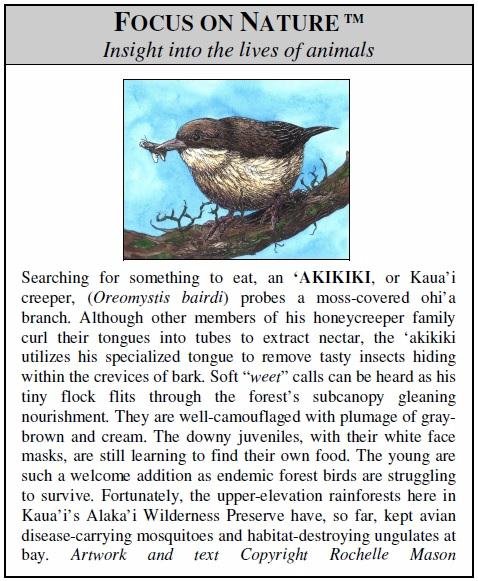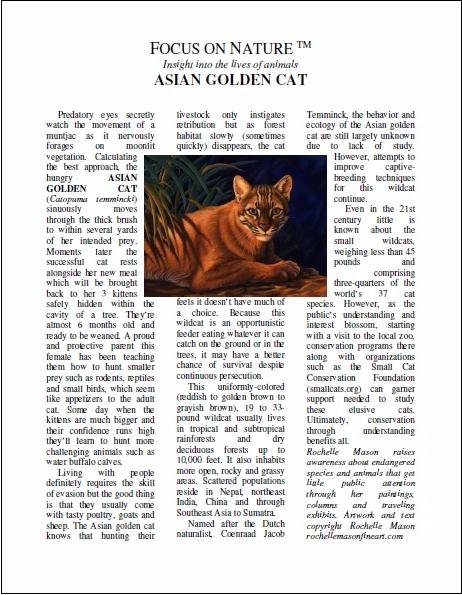 Mammals
Amargosa vole
Anastasia Island beach mouse
Andean mountain cat
Asian golden cat
Black-footed ferret
Black rhinoceros
Carolina northern flying squirrel
Columbian white-tailed deer
Delmarva Peninsula fox squirrel
Fishing cat
Florida manatee
Florida panther
Giant kangaroo rat
Giant panda
Gray whale
Gray wolf
Grizzly bear
Humpback whale
'Ilio holo i ka uaua (Hawaiian monk seal)
Iriomote yamaneko (mountain cat)
Jaguar
Lesser long-nosed bat
Louisiana black bear
Margay
Mexican long-nosed bat
Northern right whale
'Ope'ape'a (Hawaiian hoary bat)
Pallas' cat
Point Arena mountain beaver
Salt marsh harvest mouse
Sand cat
San Joaquin kit fox
Snow leopard
Sonoran pronghorn
Southern sea otter
Sperm whale
Steller sea lion
Stephen's kangaroo rat
Utah prairie dog
Woodland caribou
Birds
Ae'o (Hawaiian black-necked stilt)
'Akiapola'au
'Akikiki
'Akohekohe
Alae ke'oke'o (Hawaiian coot)
'Alae'ula (Hawaiian common moorhen)
'Alala (Hawaiian crow)
Aleutian Canada goose
American peregrine falcon
Attwater's greater prairie chicken
Audubon's crested caracara
Bald eagle
Black-capped vireo
California brown pelican
California clapper rail
California condor
California least tern
Coastal California gnatcatcher
Hawai'i 'akepa
Hawai'i creeper
Inyo California towhee
'I'iwi
'Io (Hawaiian hawk)
Kaua'i 'O'o
Kirtland's warbler
Koloa maoli (Hawaiian duck)
Laysan duck
Least Bell's vireo
Light-footed clapper rail
Marbled murrelet
Masked bobwhite
Maui parrotbill
Moloka'i creeper
Nene (Hawaiian goose)
Newell's shearwater

Nihoa finch
Nihoa millerbird
Northern spotted owl
Nuku pu'u
O'ahu 'elepaio
Oloma'o (Moloka'i thrush)
'O'u
Palau ground dove
Palila
Piping plover
Po'ouli
Puaiohi
Pueo (Hawaiian short-eared owl)
Red-cockaded woodpecker
San Clemente loggerhead shrike
Southwestern willow flycatcher
Spectacled eider
'Ua'u (Hawaiian dark-rumped petrel)
Western snowy plover
Whooping crane
Wood stork
Insects
American burying beetle
Blackburn's sphinx moth
Delta green ground beetle
El Segundo blue butterfly
Eupithecia
Flying earwig Hawaiian damselfly
Hawai'i damselflies
Koa bug
Lange's metalmark butterfly
Lava flow cricket
Lotis blue butterfly
Mission blue butterfly
Picture-winged drosophila
Puritan tiger beetle
San Bruno elfin butterfly
Valley elderberry longhorn beetle
Wekiu bug
Arachnids
Bee Creek Cave harvestman
Kaua'i cave wolf spider
Tooth Cave spider
Reptiles
Alabama redbelly turtle
American crocodile
Atlantic salt marsh snake
Blue-tailed mole skink
Blunt-nosed leopard lizard
Desert tortoise
Eastern indigo snake
Green sea turtle
Hawksbill sea turtle
Leatherback sea turtle
Loggerhead sea turtle
Olive Ridley sea turtle
San Francisco garter snake
Amphibians
California red-legged frog
Desert slender salamander
Houston toad
Santa Cruz long-toed salamander
Texas blind salamander
Crustaceans
California freshwater shrimp
Kaua'i cave amphipod
Nashville crayfish
Shasta crayfish
Fishes
Coho salmon
Greenback cutthroat trout
Lahontan cutthroat trout
'O'opu hi'ukole (Hawaiian goby)
Steelhead trout
Snails
Iowa Pleistocene snail
Newcomb's snail
O'ahu tree snail
More to come!